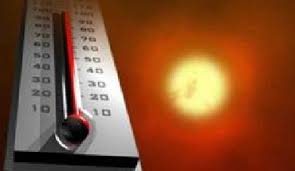 Jerome is under an excessive heat watch. Our Fire Station will be made available as a cooling shelter for residents who do not have air conditioning or cooling.
If you are aware of any senior citizens who may be at risk during this excessive heat event, please notify Fire Chief Rusty Blair at 928-300-8701.
National Weather Service Excessive Heat Warning:
…EXCESSIVE HEAT WATCH REMAINS IN EFFECT FROM THURSDAY MORNING
THROUGH MONDAY EVENING…
* TEMPERATURE…AFTERNOON HIGHS RANGING FROM 105-110. OVERNIGHT
LOWS ONLY FALLING TO AROUND 80.
* IMPACTS…PEOPLE RECREATING OR WORKING OUTDOORS…AS WELL AS
THOSE WITHOUT ACCESS TO AIR CONDITIONING…WILL FACE AN
ELEVATED RISK OF HEAT RELATED ILLNESS. DEPENDING UPON THE
AMOUNT OF EXPOSURE AND THE HEALTH OF AN INDIVIDUAL…HEAT
ILLNESS CAN RANGE FROM MILD TO FATAL.
PRECAUTIONARY/PREPAREDNESS ACTIONS…
TAKE EXTRA PRECAUTIONS IF YOU WORK OR SPEND TIME OUTSIDE. WHEN
POSSIBLE…RESCHEDULE STRENUOUS ACTIVITIES TO EARLY MORNING OR
EVENING. KNOW THE SIGNS AND SYMPTOMS OF HEAT EXHAUSTION AND HEAT
STROKE. WEAR LIGHT WEIGHT AND LOOSE FITTING CLOTHING WHEN
POSSIBLE. DRINK PLENTY OF FLUIDS…STAY IN AN AIR-CONDITIONED
ROOM IF POSSIBLE…STAY OUT OF THE SUN…AND CHECK UP ON
RELATIVES AND NEIGHBORS.